DesignSpark and DesignSpark PCB Version 3.0
Join DesignSpark for access to exclusive electronics design resources, including the FREE award winning DesignSpark PCB circuit design software.
The NEW release of DesignSpark PCB Version 3.0 features;
Spice Simulation
Simulation interface enables an engineer to export netlists from DSPCB to several popular simulation tools including LTSpice and TINA.
Design Calculators
Design Calculators allows an engineer to quickly measure/calculate impedance, capacitance, and heat dissipation in their designs with this in built tool.
Groups
Groups allows multiple items in your design to be associated together so that they act as one 'unit'. Once defined, Groups can be used to assist in selecting related portions of your circuit. This can be used to also forward Group changes from Schematic to the PCB Layout.
DesignSpark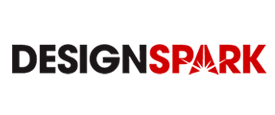 The gateway to online resources and support for electronics design engineers.
DesignSpark offers electronics engineers a wealth of reliable technical information and resources, user reviews and new free tools to speed up the electronics design process.
Register free at http://www.designspark.com to benefit from:
DesignSpark PCB

The world's most powerful, Free award winning PCB design software.
DesignSpark PCB is a Free professional PCB design software, enabling electronic design engineers to take their designs from concept to production.
Key Features:
Use Spice Simulation to export your netlists to several popular simulation tools including LTSpice and TINA
Calculate impedance, capacitance and heat dissipation with the Design Calculator
Group multiple items in your design so that they act as one 'unit' with the Group function
View your PCB layout with the 3D viewer
Support unlimited PCB layers and unlimited sheets per project
No license restrictions or time limit on license
Generates industry standard Gerber files, Excellon, DXF, IDF and more
Design Spark FAQs
What is DesignSpark?

DesignSpark is website where electronics design engineers can find a huge range of resources to help with new designs. For example, you can read product reviews, ask and answer questions or make use of free design tools from the Sparkstore

How much does it cost to register?

It's absolutely free to become a member - simply go to DesignSpark.com and you can join right now

What's in it for me?

When you join DesignSpark you'll immediately have access to a whole range of ideas and tools that can help you with your electronics designs. For example, you can read product reviews, ask and answer questions or make use of free design tools from the Sparkstore - like DesignSpark PCB
Design Spark PCB FAQs
Where can I get DesignSpark PCB?

DesignSpark PCB is only available for download from DesignSpark.com

How much does DesignSpark PCB cost?

DesignSpark PCB is free to download, but won't place limits on your designs (see next question)

What are the limitations on designs and output file types?

DesignSpark PCB is fully featured and without intentional limitations on board size, pin counts, layers or file output. Gerber files are generated, designers can decide where they wish to have their boards manufactured.

Where can I learn more about DesignSpark PCB?

DesignSpark.com is the home of DesignSpark PCB. Tutorials, examples, FAQ's and more can all be found at DesignSpark.com

Can I make suggestions for new features?

Your feedback is most welcome, please submit any suggestions using the "new suggestion/question" link above